Sturgis Chamber hosts Dolan Creek Senior Living ribbon cutting ceremony
STURGIS — The Sturgis Area Chamber of Commerce hosted a ribbon cutting ceremony on Thursday for the 50 unit Dolan Creek Senior Living that officially opens June 1.  Dave Gustafson, president/owner Heavy Constructors Inc., along with Teresa Henderson cut the ribbon and welcomed everyone in for a tour and lunch. 
The first floor, has 14 assisted living units and the second and third floors together have 36 independent senior living units. There are still two assisted living units remaining and several apartments on the second and third floor that are available to rent.
Gustafson said the project was a long time coming.
"We are just excited that the new facility has opened, with 50 rooms, has been a long time coming for the city of Sturgis. We made it through COVID, and through many challenges, we had a wonderful team to work with, the city and staff, Teresa (Henderson), and my superintendent, the investors are excited to be part of the Sturgis community and see this open up today," said Gustafson.
Henderson, executive director of Aspen Grove and Dolan Creek Senior Living, said she is excited to provide the services to the community.
"Finally, we are so excited, we have two apartments left on the first floor for assisted living, and several openings on the independent living floors. If anyone is looking for a place or needing services, please give us a call," said Henderson. "I started at Aspen Grove ALF nine years ago and we were told we would be opening a facility next door in the very near future, and nine years later here we are. On second and third of the facility, there are eight – two bedroom unit and the rest are one bedroom, and on the first floor, there are 12 one bedroom and two – two bedroom apartments. I want to give a huge shout out to the boards of SEDC and Greater Sturgis LifeCare Foundation, Gustafson's and Paul Bisson. Bisson was so instrumental and the reason we are here today."
Amanda Anglin, executive director of Sturgis Economic Development Corp (SEDC) said this facility has been in the planning stages for years. "SEDC has been involved in the planning of this facility for 10 or 20 years, it has been a labor of love for the community for a long time and it is great to see it finished and have people ready to move in. We have had many great partnerships along the way with Dave Gustafson and his family, the staff at EmpRes, the City of Sturgis, the Greater Sturgis LifeCare Foundation and the entire community has just came together to make this possible. This is a great step in our housing journey to provide housing for all stages of life and hoping this will open up some single family homes within the community so we can continue to grow our population," said Anglin.
The residents can be as active as they want with some common activities that include: on-site movies, seasonal holiday celebrations, current events discussions, religious and worship services, summer and weekend barbecues, outdoor events, bingo and games, and they organize plenty of special events throughout the year.
Reprinted Courtesy of Tim Potts, Black Hills Pioneer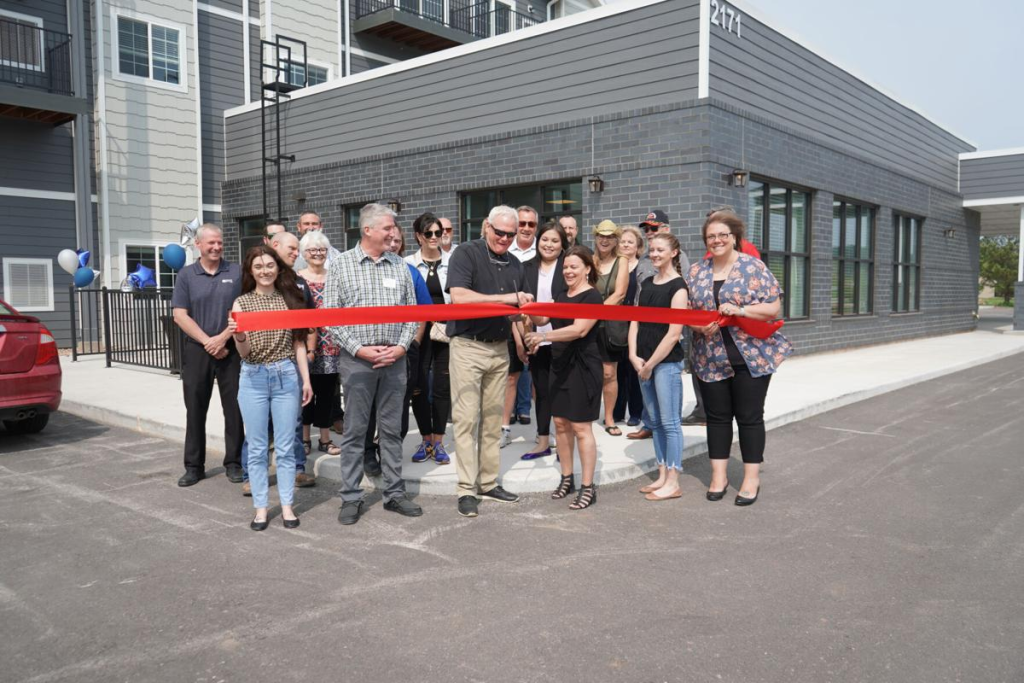 The Sturgis Area Chamber of Commerce hosted a ribbon cutting ceremony for the Dolan Creek Senior Living facility on Thursday in Sturgis. Dave Gustafson, President/Owner Heavy Constructors Inc., along with Teresa Henderson, Executive Director of Aspen Grove and Dolan Creek Senior Living, cut the ribbon with investors and community members attending. Pioneer photo by Tim Potts