JULY, 2018
New SEDC board member.
Jeff Dragseth, General Manager of CBH Cooperative, regretfully resigned his SEDC board position in May. Since CBH acquired the Gillette, WY operation in May, Jeff has needed to focus on merging and structuring the organizations. According to SEDC bylaws, the SEDC board can appoint someone to fill a vacancy until the next Annual Meeting of Members. Karen Simmons, CPA, has accepted this board appointment. Please join us in welcoming Karen to the SEDC board. Sturgis MotoCruzin USA is expanding. They have leased the 9,600 sq. ft. SEDC spec building in the Sturgis Industrial Park. The building is being completed to their specifications and will be ready within 8-10 weeks. Sturgis MotoCruzin USA was formed in August 2016 as a licensed manufacturer, marketer and distributor of Motopeds and have since continued to expand their product offerings. For the last two years, they have been leasing the rear portion of the Samson Exhaust building in the Sturgis Industrial Park.
Construction numbers as of June 30.
Sturgis and Meade County new construction permits continue in growth mode. In Sturgis, the value of new commercial construction is already double that of all
2017. The City's total value of all new permits YTD is $10.2M, compared to $10.4M for all 2017. Meade County issued 133 building permits (the same number as last YTD), totaling $10.9M. This is on track to exceed 2017's total of $20.1M.
Wildflower Townhomes
will host a community ribbon cutting and open house on Tuesday, September 25, 4:00 – 6:00 pm. Food and beverages will be served. Please join in welcoming developer/owners Tim and Peggy Heuston to Sturgis. Wildflower Townhomes is located at the corner of Fulton and Boulevard Streets.
SEDC executive director search.
The SEDC Personnel Committee is reviewing the applicants and starting the interview process. Our goal is to have the new director hired and on staff no later than October 1. This would allow at least a 3-month transition period for Pat to train with the new director.
Main Street sculpture and benches.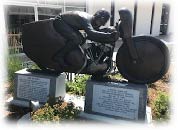 On June 27th, the Downtown Sturgis Foundation unveiled the latest permanent sculpture to adorn Sturgis Main Street. This life-size bronze statue depicts champion hill climber and dirt bike racer Joe Petrali on his 1-mile, 136.183 mph record-setting run at Daytona in 1937. The statue was strategically placed in the bump-out in front of Wells Fargo Bank welcoming everyone to Legendary Main Street. The inscriptions on the granite base recognize individuals and organizations involved in its placement.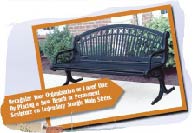 Along with permanent artwork, the new Sturgis Main Street will include benches with matching trash receptacles. With a tax deductible donation to the Downtown Sturgis Foundation, residents, organizations, businesses, etc. can purchase a bench with a personalized bronze plaque. The first five benches are ordered and will be installed this fall. SEDC financially contributed to both the bronze sculpture and a Main Street bench, and encourages others to also participate in this exciting downtown revitalization project.
Pat Kurtenbach, SEDC President
SEDC is an equal opportunity provider, employer and lender.